IN THE PRESS – Baseball America – Read Full Article
At the 2022 American Baseball Coaches Association convention in Chicago, an organization committed to reimagining and reinforcing the travel ball space was officially launched.
Diamond Allegiance is an organization made up of partnerships between prominent current and former college coaches, working with travel ball organizations to help identify and solve various issues in the space.
As the travel ball scene becomes bigger and bigger for high school players—and perhaps even more critically, an increasingly essential pathway to playing collegiate baseball—Diamond Allegiance is looking to help improve player development, improve coaching, build better travel ball businesses and reduce costs for players and families in order to create more opportunities in the sport.
Tracy Smith, the former coach for Miami (Ohio), Indiana and Arizona State, is the CEO of Diamond Allegiance. He will work with an Executive and Advisory Board committee made up of marquee names in the college space, including current collegiate coaches Erik Bakich (Michigan) and Kevin O'Sullivan (Florida), and former Oregon State coach Pat Casey. Matt Gerber is the head of player business and development, while two-time Olympic softball gold medalist and ESPN analyst Michele Smith is also on the Executive and Advisory Board committee.
"I am excited to be able to make a difference with what we're doing on a much larger scale," Tracy Smith said. "There might be 35 guys in our locker rooms, but if we can impact this game on a much larger scale for all players, I think that's a big part of our mission."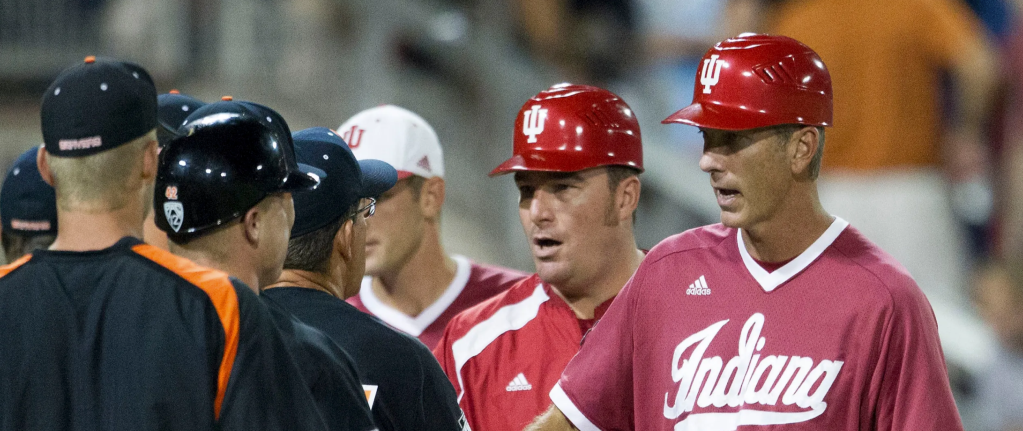 Diamond Allegiance will look to partner with travel ball organizations for 12-month development programs that will help athletes and coaches connect with a network of current and former coaches, from both the collegiate and professional ranks.
While there are many competing interests in the travel ball space—players, parents, travel ball organizations, college recruiters and MLB scouts all have differing priorities—Diamond Allegiance is attempting to benefit the entire ecosystem.
The organization will try and help travel ball teams create more sustainable business models, help players focus on year-round development in an increasingly "exposure-oriented" world, help educate parents on college recruiting and identify areas where spending is and is not worth the cost, as well as create certifications and professional growth opportunities for coaches in the space.
In addition to all those specified goals, Diamond Allegiance has created a national scholarship fund in an attempt to allay the costs of travel baseball.
"The big key to this is realizing people spend a lot of money," Smith said. "What we are going to do is help those families and kids defray those real hard costs to play the sport. Minimize that so that more people can play, there's more access to quality coaches and instruction.
"Travel ball itself seems to be a gatekeeper for whether kids play beyond high school or not. Everyone is trying to figure out—from the MLB side, to the MLBPA side, to travel ball—how can we open these doors to everybody who wants to play? That's an exciting piece of what we are doing on the foundation side of Diamond Allegiance, is creating scholarship opportunities and providing that access for kids who can't play.
"That is, quite frankly, the nut that everyone is trying to crack. How can we do this in a sustainable model that can create and foster real change over an extended period of time?"
Trying to help more players get into the space has always been a passion for Casey, and that's a major reason why he got involved with Diamond Allegiance. As a member of the advisory committee, he is looking forward to assisting travel ball coaches by digging into a well of knowledge he's developed over four decades of coaching at the college level.
"I love the game of baseball, I love being in the dirt," Casey said. "For me to go out and stand on the field and talk to a summer ball coach at any level, at any place would be something that I would really think would be right up my alley. It would be something I would humbly appreciate and be grateful I have the opportunity to stay in baseball and help with some of these organizations."
In addition to helping improve overall coaching information and education, Casey and other college coaches involved in Diamond Allegiance can help players gain a better understanding of where they currently stand in the recruiting process, and what specific things they need to work on to improve and reach their goals at the next level.
"If I can help them with the development piece, with 'Hey man you have to do not only this baseball wise, but here is what you have to do academically, here is what you have to do to be seen,' " Casey said. "Helping them know what we are looking for in a player…
"If a kid asked me a question, or a summer ball coach said, 'Hey, I have a kid who is tremendously fast, would you watch him take ground balls? I think his two positions are center field or shortstop.' And if I could encourage the kid and say 'You know, shortstop is a different animal. You might be what I would consider a below-average Division I shortstop, but you may be an average to above-average center fielder if you are willing to make that change. And here's what you have to do. And here is where I see you developing.'
"I think those are things that would be that communication piece, and if I could sit with a summer ball coach and he could ask me my opinion on something like that, 'Hey, where do you see Billy playing?' If it's a pitcher and he has big velo but doesn't have command of a second pitch—whatever it may be—if I can help give them advice that will aid that kid and his opportunity to be a college player, that would be pretty cool."
While the small percentage of elite high school players won't have much trouble navigating the waters of the travel ball space, Diamond Allegiance and the people involved are committed to helping improve the experience for the vast majority of players who will never be drafted, but do have a chance to play at the next level in some capacity.
Between the board's 100-plus combined years of Division I coaching experience and initial partnerships with prominent travel ball programs like Canes Baseball, GBG, Power Baseball, Team Elite, CBA and Indiana Bulls, Diamond Allegiance is attempting to improve the health and sustainability of travel ball by creating a network that will have the ability to tackle many different issues at once, but with a unified group behind it.
"It's hard, because it takes time, it takes resources and it takes a coordinated effort," Smith said. "Because everyone you are dealing with, everybody's agenda is slightly different. Sometimes I think you can get distracted by going down one path—whether it's solely creating opportunities for youth, well that's good but also those kids want to develop as well.
"I think what we have been able to do with this ecosystem is really be able to address all of the concerns … Because if I were to go out as Tracy Smith on my own and try and do this without some of the resources behind this or the business expertise and connections I would probably be running into the same things that some of these organizations that are trying to tackle this on their own have run into.
"But when you take all of those smart people and you put them in the same room around the same table with an agenda that's moving in the same direction it makes it a lot better and a lot more effective."